Main content starts here, tab to start navigating
About
Slide 1 of 4
Slide 2 of 4
Slide 3 of 4
Slide 4 of 4
"Fish Cheeks is named for the lean, tender cheek meat that is considered the tastiest part of a fish and a delicacy in Asia."
Fish Cheeks is a vibrant restaurant located on the iconic Bond Street in NoHo serving contemporary Thai food with a focus on seafood. Named for the lean, tender cheek meat that is considered the tastiest part of a fish and a delicacy inAsia, the critically-acclaimed and widely-beloved restaurant offers a menu of unabashedly intense, fresh and vivid dishes that span the diverse regions of Thailand. Helmed by Thai immigrants, brothers chef Ohm and Chat Suansilphong + Jenn Saesue and Pranwalai Kittirattanawiwat, Fish Cheeks is a deeply personal concept that celebrates the team's cultural heritage and the culinary artistry found in Bangkok and beyond. Brought together by their shared desire to bring traditional Thai cuisine to NYC, the team decided to open Fish Cheeks, offering a menu that highlights the unfiltered flavors they craved from their upbringing in Thailand and re-creates the type of convivial and communal-style dining found across the country - from the street-stalls to fine-dining restaurants.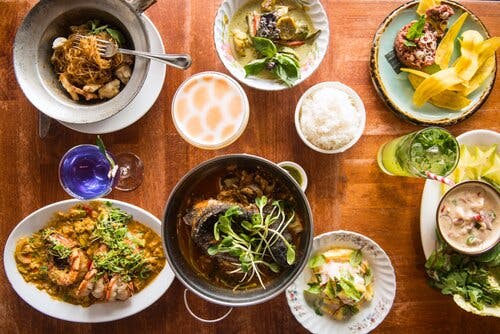 Fish Cheeks takes a modern approach to traditional Thai dishes, drawing inspiration from the country's coastal cities to create a family-style menu that is flavorful, complex and approachable. By featuring ingredients like dried bird's-eye chili, tamarind, makrut lime and Sichuan peppercorns in an array of curries and sauces, Fish Cheeks brings an unapologetic heat to every dish. Since opening 2016, Fish Cheeks has been celebrated by patrons and critics alike with notable accolades including a glowing two-star review from Pete Wells at The New York Times.
The restaurant was also named one of the "Absolute Best Thai Restaurants in New York" by New York Magazine and is included on Eater's "38 Essential Restaurants in New York."