"Fish Cheeks is named for the lean, tender cheek meat that is considered the tastiest part of a fish and a delicacy in Asia."
Fish Cheeks is a vibrant restaurant located on the iconic Bond Street in NoHo serving contemporary Thai food with a focus on seafood. Named for the lean, tender cheek meat that is considered the tastiest part of a fish and a delicacy inAsia, the critically-acclaimed and widely-beloved restaurant offers a menu of unabashedly intense, fresh and vivid dishes that span the diverse regions of Thailand. Helmed by Thai immigrants, brothers, and co-chefs Ohm and Chat Suansilphong + co-owner Jenn Saesue, Fish Cheeks is a deeply personal concept that celebrates the team's cultural heritage and the culinary artistry found in Bangkok and beyond. Brought together by their shared desire to bring traditional Thai cuisine to NYC, the team decided to open Fish Cheeks, offering a menu that highlights the unfiltered flavors they craved from their upbringing in Thailand and re-creates the type of convivial and communal-style dining found across the country - from the street-stalls to fine-dining restaurants.
Fish Cheeks takes a modern approach to traditional Thai dishes, drawing inspiration from the country's coastal cities to create a family-style menu that is flavorful, complex and approachable. By featuring ingredients like dried bird's-eye chili, tamarind, makrut lime and Sichuan peppercorns in an array of curries and sauces, Fish Cheeks brings an unapologetic heat to every dish. Since opening 2016, Fish Cheeks has been celebrated by patrons and critics alike with notable accolades including a glowing two-star review from Pete Wells at The New York Times. The restaurant was also named one of the "Absolute Best Thai Restaurants in New York" by New York Magazine and is included on Eater's "38 Essential Restaurants in New York."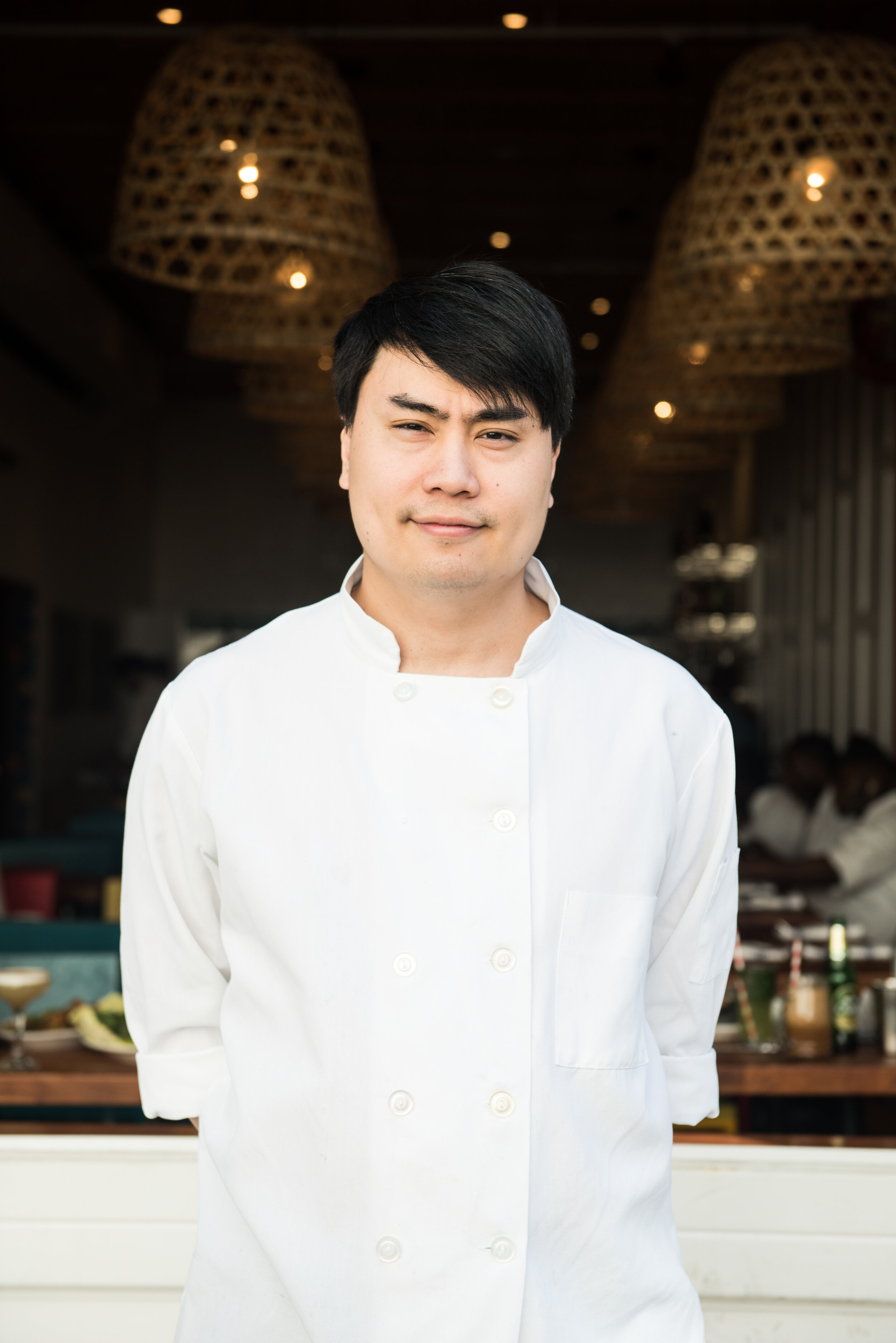 Ohm Suansilphong, Chef and Co-Owner Ohm Suansilphong is the co-chef and owner of Fish Cheeks, alongside his brother, Chat. Born and raised in Sukhothai, a province in the northern central region of Thailand, Ohm and Chat first learned to cook during the many hours they spent in the kitchen of their father's restaurant while they were growing up. After studying at the Mandarin Oriental culinary school, Ohm became part of an award-winning team at Nahm in Bangkok (featured on San Pellegrino's World's 50 Best Restaurants list). Ohm then moved to Australia to work at Long Grain, a modern Southeast Asian restaurant, where he gained experience cooking outside the realms of authentic Thai food. In 2016, Ohm teamed up with Chat and business partner Jenn Saesue to fulfill his decade-long dream of opening his own restaurant, and Fish Cheeks was born. In 2018, Ohm opened Fish Cheeks' sister restaurant, Chicks Isan, a Downtown Brooklyn fast-casual concept serving contemporary Thai cuisine inspired by Thailand's northeastern Isan region.
Fish Cheeks co-owner and jack-of-all-trades Jenn Saesue has always felt most at home in restaurants. As a child in Bangkok, Jenn has vivid memories of scouring the city with her father in search of the best Thai dishes. When Jenn immigrated to the United States at age 12, this passion for food stayed with her, and she opened her first Thai restaurant at just 22-years-old. While the restaurant ultimately closed, it was a formative first experience that led her to take a role in upper management at the restaurant OBAO, where she first met Chat and Ohm. After learning they shared in her vision of opening a restaurant in NYC that served the kind of Thai food she had grown up with, they decided to join forces and opened Fish Cheeks in 2016. In 2018, Jenn teamed up with Ohm to open Fish Cheeks' sister restaurant, Chicks Isan.
Chat Suansilphong, Chef and Co-Owner Chat Suansilphong is the co-chef and owner of Fish Cheeks, alongside his brother Ohm. After honing his skills in his father's restaurant in Thailand, Chat moved to NYC to study at the esteemed Culinary Institute of America in Hyde Park. Upon graduating from CIA, Chat worked at Colicchio & Sons, where he expanded his culinary repertoire and learned how to navigate a fast-paced kitchen while working with an entirely new cuisine. Next, Chat took his skills outside of the kitchen and into the dining room, spending two years as manager of OBAO, an interpretive modern Asian restaurant. During his time at OBAO, Chat was able to pair his back-of-house expertise with his new front-of-house position, deepening his understanding of the restaurant industry as a whole. After meeting at OBAO, Chat and his brother Ohm teamed up with Jenn Saesue to open Fish Cheeks in 2016. In 2019, Chat will open Gai Chicken and Rice, a takeout restaurant in Midtown with a fried-chicken focus.